Carp & Coarse Fishing in the Exe Valley, Devon & Somerset
After much thought we have decided not to reopen the fishery for Trout fishing for the foreseeable future. However we have stocked the largest lake, Ironmill, with very high quality carp from Lana Springs Fish Farm. We plan to open for our holiday residents at the beginning of June and will opening for Day Tickets shortly after. For more information please call 07967 335159.
Please see our News section for an update on changes to pricing, payment options and the need to book as these were changed on the 27th July 2021.
"Started fishing around 10am. By 3.30pm I had caught my bag of 5. More than happy. Healthy fish, fought like tanks...loved every aspect." Budleigh Photography February 2021 "Beautiful tranquil surroundings. Friendly and attentive owner. Well stocked with great fish." Ian Smyth September 2020
Bellbrook has always been known for its great fly-fishing and trout fishing, but it is also known as one of the prettiest fisheries in the country. For the past few years it has been rated in the top 30 out of 500 UK fisheries by the country's leading Trout fishing publication Trout Fisherman. It is set in its own 40-acre valley in Exe Valley between Devon and Somerset with an abundance of wildlife, including deer, badgers, foxes, rabbits and buzzards as well as many wild and rare flowers and plants. It provides a heavenly setting in which to "re-charge one's batteries" and is known for its superb trout fishing with peace and tranquillity.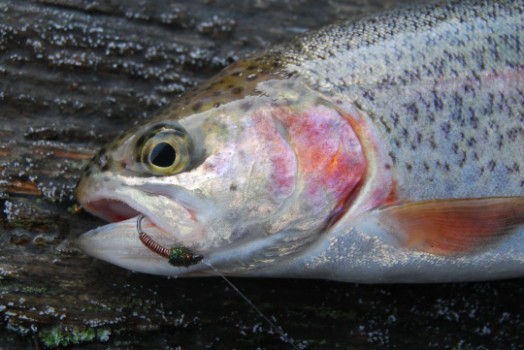 A clean bright Bellbrook rainbow caught on a Tazerbug fly - Pic by Dom Garnet
Our fishing resort location in Exe Valley, Devon boasts five fishing lakes, all of which fish differently, and we offer a specimen only lake. We can also provide fishing accommodation and tuition.
As well as catering for seasoned fly and trout fishers we also offer events and tutorials for beginners wishing to take up fishing at our resort on the border of Devon and Somerset and across Exe Valley. Due to the calming nature of fishing we also offer corporate fishing events and team building events and days allowing you and your team to work together in a different environment, often bringing out the best in the individual.
We offer a range of packages for groups or corporate teams which includes instructors for the less experienced or beginners, all the equipment needed and a sit down lunch.
So whatever your needs, whether it be a relaxing trout fishing holiday in our idyllic fishing resort, a corporate team building event, a half day pass for Fly-fishing or even a fishing tutorial course with one of our experienced fishers then look no further than Bellbrook Valley, Fly-fishing and Trout Fishing in Exe Valley, Devon and Somerset.
Our aims
Our aim is to provide fishing facilities in the heart of North Devon, where it is possible to escape from the madness of the outside world and relax in total tranquillity by one of our five lakes or simply walking in the grounds. The atmosphere is relaxed and homely, but where something is always going on and someone is always dropping by. Everyone is welcome and made to feel welcome. So whether you want to sit and fish and watch the world go by or you want to indulge in some more energetic forms of relaxation all are accommodated for and all more than welcome.