First Day back and a Great Days fishing
We were blessed with a classic day of fishing on the lakes having only re-opened today:)
There was a full turnout with everyone doing a fantastic job of observing the new rules and even managing the online booking and payment systems! Well done all.
We haven't had all the returns yet but all bar one caught their limit and some very good fish were landed.
One particularly great story was from regular visitor Chris Comer from Tiverton. We were standing by the slipway on Bodmin Lake when he explained that was the very spot where he caught his first ever Rainbow Trout on the fly when fishing exactly 4 years ago to the day. It is easy to remember the date as it is his Dad's birthday - 85 today:) Chris had just had his first ever fly fishing instruction that day from me! He'd been bought our Intro to Fly Fishing Package and judging from the way he was casting a dry fly today and artfully coaxing fish to the surface he has been putting in plenty of practice since. Good job Chris - makes me proud:)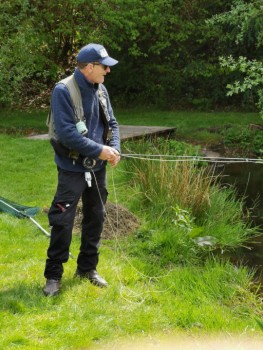 The Specimen Lake responded well to the intense attention recieved today. After 7 weeks of just ducks and moorhen the boys certainly had them surrounded today. The best fish recorded so far was 7 - 2 and it took forever to land. (I was watching and I thought he was going to lose it). The effective fly was a red buzzer on a dropper of all things.
The Normal lakes also performed well and there were comments on how big and healthy the fish are. Well they should be - I've been feeding them in the stock ponds for the past 2 months with non being caught! Several fish came out at over 3lb and they were stronger than many expected - it is such a releif to feel this normal again:)